Rediscover the History of Myanmar in The Secretariat​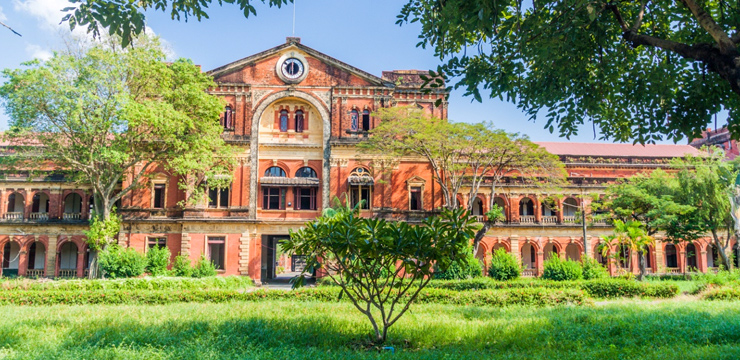 The Secretariat is a national icon that represents the story of Myanmar in the making. Currently undergoing the most ambitious restoration in history, The Secretariat is set to become the architectural marvel where culture, commercial, and education intersect. It is a dedicated space where people and communities of Myanmar can convene at the heart of Yangon.
​
Located on Thein Phyu Road, Yangon, this Victorian-style building is made from red and yellow brick and constructed in a U-shape. The Secretariat occupies approximately 16 acres in the South of Yangon and was designed by British architect Henry Hoyne-Fox (1855-1905) as the epicenter of Rangoon (present-day Yangon) the first South-East Asian garden city.

The Secretariat holds a unique place in Myanmar's history, being the location for some of the most important moments in its colonial, independence and post-independence history. Fully completed in 1905, The Secretariat was the center of British colonial administration in Burma and was the pre-eminent structure associated with the government during this period.
The building was also the place where Myanmar's first steps towards independence happened. The diarchy (Legislative Council) was established at The Secretariat in 1923, giving Burma a measure of self-rule.
It was the location where Burma formally separated from India in 1937, and where the largest anti-colonial student demonstration at the time occurred in 1938.
After the Second World War, independence negotiations began, and by 1947 an agreement had been reached with the then independence leader, General Aung San. On 19th July 1947, however, Aung San and eight other cabinet members were assassinated in the west range of The Secretariat, a murder that has since been commemorated every year in the inner Quadrangle on 'Martyrs' Day'.
It is rich in historical significance—being where the first constitution of Burma was made; where General Aung San was martyred; and where the first Myanmar flag was raised when Myanmar obtained Independence.
Farsightedly, the Myanmar Investment Commission and the Yangon Regional Government gave permission to Anawmar Art Group to restore the Secretariat to its former glory and instill into its bricks and mortar a new lease of life as a cultural complex that will serve the visitors and locals alike.
The Secretariat Conservation Group is offering a tour to get a closer look at the national icon as it undertakes the most ambitious restoration in history. You can contact the group directly for a guided tour of this historic heritage site, highlighting key moments in and insights from Myanmar history and the key people that helped shape the country.
Sources
http://www.thesecretariat.com
https://www.facebook.com/pg/thesecretariatyangon/about/?ref=page_internal
https://www.facebook.com/thesecretariatyangon/photos/a.296818667429170/602511910193176/?type=3&theater