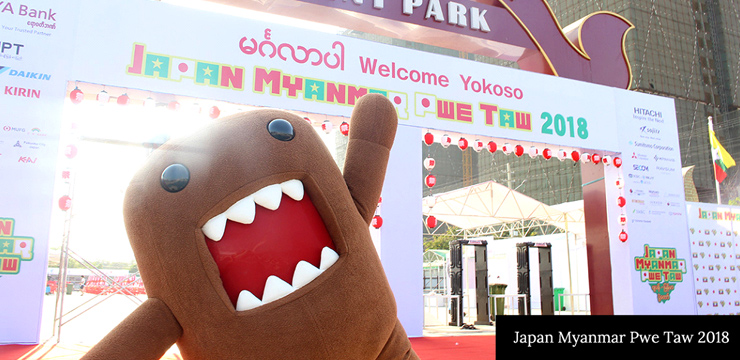 Japan Myanmar Pwe Taw 2019
Japan-Myanmar Pwe Taw or Japan-Myanmar Festival was first started as a celebration of the 60th anniversary of the diplomatic relations between Japan and Myanmar in 2014. Since then, the festival becomes a yearly event between the Japanese and Myanmar people to get to know each other's culture.
This year, Japan Myanmar Pwe Taw 2019 was held at Thuwunna Bhumi Event Park in Yangon on 3rd February 2019. The festival was a huge complex outdoor event where visitors can enjoy Japanese food, products, promotions and special stage by many well-known artists from both countries. The venue at the front of the stage was packed with the eager audiences since evening.
"This time, the audiences can see more collaboration between Myanmar and Japan," said Yusuke Matsuoka, the first secretary of information and culture for the Japanese Embassy in Myanmar. "Not just singing or dancing, we'd like to continue and grow this festival each year."
The event brings inspiration and admiration for the young people in Myanmar as it is the biggest event where Myanmar People can enjoy Japanese culture. Aside from the food stalls and stages, visitors also enjoyed the photo shooting with cosplayers.
Comedian, Tokyo Oden Boys, Arky said "I think this is the 5th event and it gets bigger each year. And I hope it's getting much bigger each year and then, one day I hope we could do some show on the stage too."
The most significant part of the festival was a video of State Counselor Daw Aung San Suu Kyi's speech for the festival. In the speech, she elaborated that the objective of the festival was to improve the friendship between the two countries as well as the people. "I hope the friendship between the two countries is long-term and always welcome Japanese people to Myanmar," she said.
The highlight of the evening was entertainment included both Japanese and Myanmar artists; Japanese-Burmese actor and singer Mori Saki Win and his band Prizma X, female singer Rimi Natsukawa, and Ni Ni Khin Zaw, Bunny Phyoe, Pann Yaung Chel, Ah Moon, G-fatt and Chan Myae Mg Cho. Japanese singer Rimi Natsukawa sang a Japanese song accompanied by Myanmar Traditional harp as well as a Myanmar song translated from a Japanese song by local musician Di Ra Mo. The festival night tied the mutual understanding and cultural exchanging between the Japanese and Myanmar people through this annual lively event.

Sources
https://www.facebook.com/JapanMyanmarPweTaw/?ref=br_rs
https://www3.nhk.or.jp/nhkworld/domo/info/rep_20180224.html
https://www.mmtimes.com/lifestyle/24494-japan-myanmar-pwe-taw-approaches.html
https://www.myanmaritv.com/news/japan-myanmar-festival-japan-myanmar-pwe-taw-2019
http://yangonlife.com.mm/en/article/5th-japan-%E2%80%93-myanmar-festival?fbclid=IwAR2Ef0WaiShoui9ZBhv8_O4RXBa4tATXMbCE3V4iTOI6naKTL2b1g3OrzjM
https://scontent.frgn5-1.fna.fbcdn.net/v/t1.0-9/51319978_1971364863159411_3907562457081577472_n.jpg?_nc_cat=101&_nc_ht=scontent.frgn5-1.fna&oh=7c570d635be6525ecf4e1efcd73702a8&oe=5CFABAD6